Bag a bargain (but more importantly: Bag a bag)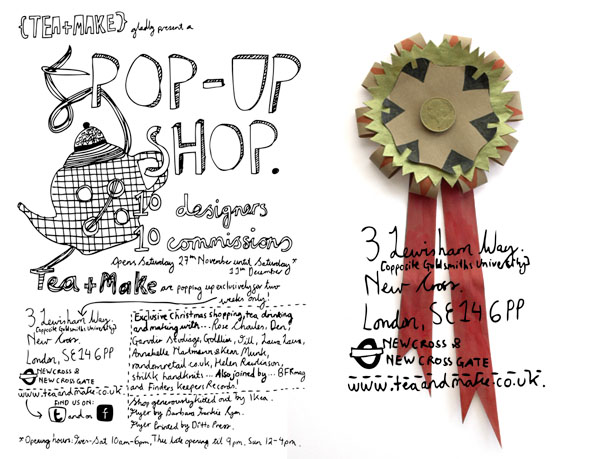 Opening Saturday 27th November and closing again 11th December is the
Tea and Make pop up shop
in New Cross.

We'll be selling Antlor kits and stuff like the
Son of Ar
and our
The See Screenprints
are going for, well, next to nothing. Fellow
a secret club
culprit
Annabelle
will also be selling goods there, including miniature shrines, porcelain pieces and Qee figures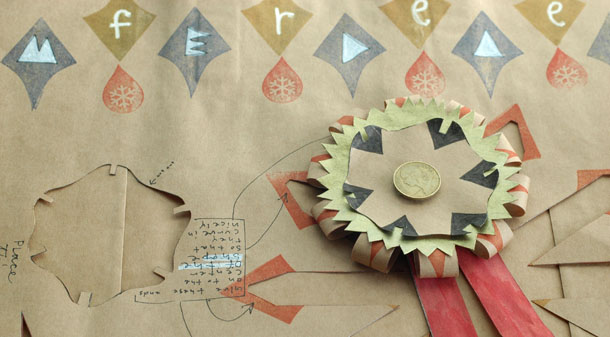 With every purchase (if you're fast) you get a special paper bag - all participating artists/designers have been asked to design ten and ours were done as
a secret club
.

This, of course, means play and craft so our bags can easily be transformed into either a monstrous finger puppet (the small bags)

Or a medal for the big bags.
Only after having made these did we realise that the designs had to be the same for all bags and we're sorry that we've messed with the system, but this way you'll get a lucky bag style lucky bag.
These bags are re-visits to some of the projects
a secret club
have worked on through 2010 and bring back great memories of making medals with kids at Port Eliot Festival in Cornwall and monsters with grown ups at V&A.
The medal making will get a another revival very soon in Scandinavia - point your eyes here.
Please drop by to raid our stock so we can get space for new products.