Studio tour: The stuff around us
We have finished (well, we still need to make a movie) our "Spirits of the Forest" project, school's out, so no more teaching and most clients are away on holiday so let me use the time to show you round the place, you see, we moved about 4-5 months ago and sadly the new place didn't allow for a separate studio so we've engaged in a strict Not-too-much-stuff regime as the boundary between work and living has been blurred. This doesn't mean minimalist Scandinavian living like in the mags - objects feed our brains, so here are some objects that made the cut: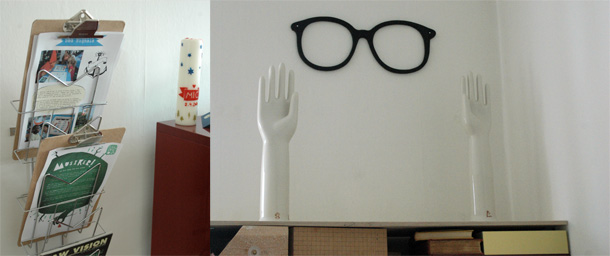 Don't be fooled, the clipboard look neat here, but the truth is that the photo was taken RIGHT after they got up in that old magazine rack. Also, we have more than one magazine but one is allowed in the rack at a time - at the time it was an issue of the always mind blowing
Raw Vision
. Right now, there are two issues of It's Nice That (3+4), Latest issue of CUT, an old Lodown, a print sample of a parenting mag and The Guardian from June 11th (We miss The Guardian so Chris of
Garudio Studiage
with whom I used to teach at Central Saint Martins sent us a copy back in June - If you want to send us a copy of The Guardian in exchange for anything bar our souls, please get in touch.
The candle was Mr. Mio's christening candle - a German tradition. The standard ones were pretty awful in that religious way so we made our own.
The glasses were from an optician that closed shop, they're carved in wood and the hands are from an old glove factory, someone I shared studio with once got them for a project.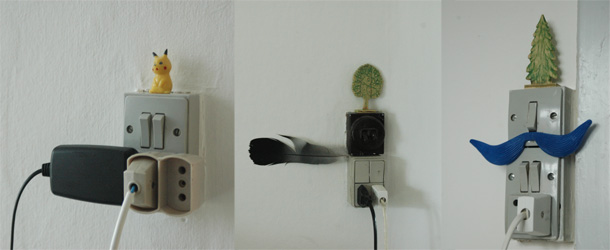 Ah, the odd mix of light switches and plug sockets from different eras , the fake Pikachu one and the feather one are pretty random, the tache one was in our old studio too.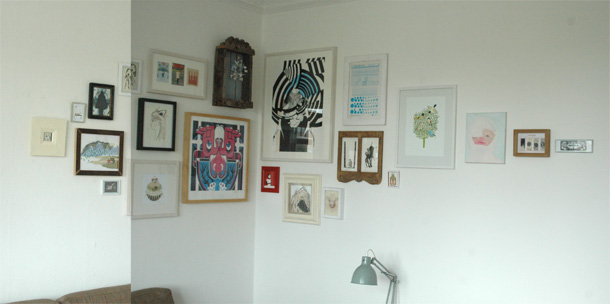 Art we like.
Some from friends, some from former students, some from former versions of ourselves, some are just nice, like the Letraset sheet there are a few things that ought to be there that aren't.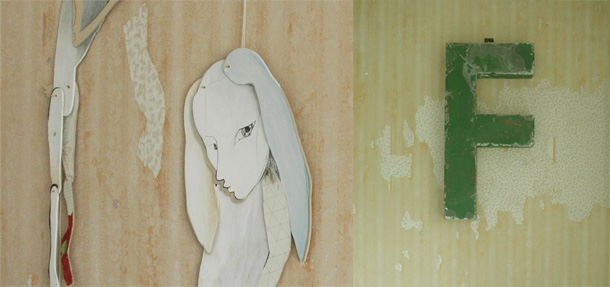 Wallpaper archeology.
I stripped of some of the newer layers of wallpaper - probably in impulse stemming from my childhood. On that wall are a couple of jumping jacks
Annabelle
made and a big green F that I found in a town called Ebeltoft which sounds a bit like someone the Moomins might know.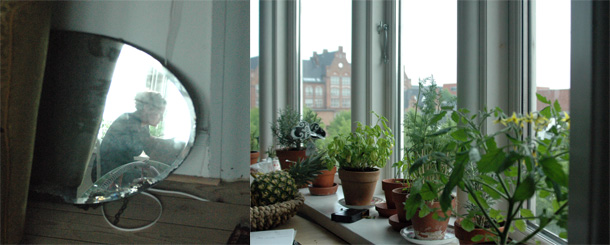 A mirror that still hasn't been put up reflects Annabelle working on something by the window that hosted The Sage, The Basil, The Rosemaries, Helen's Tomato, Pale Dill, Father Thyme, Dead Hot Chili Papas and a toner cartridge waiting to be sent to the recycling place.
That's it, I need to design some stickers for
a secret club
now. And you need to scoot over to that same club to join the mailing list, we have good things coming. Including stickers.